HEALTH & HYGIENE SERVICES
New – Oxygen Concentrator available for sale in various brands and sizes. In-house repair and AMC options also available.
New – Please check with us for portable Oxygen cylinders for medical, home use. Several sizes available .
UNIVERSAL ABSORBER FOR BODILY FLUIDS:
BLOOD | VOMIT | URINE | AMNIOTIC FLUIDS | DIARRHEA | OTHER GENERAL FLUIDS
Top Features:
Absorbs Spilled Fluids without any mess.
Provides protection against contagious body fluids
Eliminates the suffering of foul-smelling environment
Is economical in usage. 1 shaker binds up to 25 litres of liquid !
Hazard Safe stop all these bacteria from spreading!
Bacillus Subtilis

Pseudomonas Aeruginosa

Corynebacterium

Alcaligenes Faecalis

Legionella Pneumophila
Shelf Life:
5 years.
Storage:
Keep the shaker closed and protect it against sun radiation and frost.
Application:
Ideally suited for nurseries, kindergartens, schools, rest homes, doctor's offices, hospitals, rescue services, cabs, public transport systems, hotels, restaurants, bars.
pH value: approx. 7.0
Density: approx. 500 g/l
Keep it safely away from children! Mixture may cause slip hazard!
HAZARD SAFE® is a registered Trademark of Febbex North America Distributor, Inc​​​
Have questions or queries ?
Try It. You will like it.
1. AFTER A SPILL OCCURS
Our product most effectively absorbs spillage of human fluids including urine, blood, vomit, etc.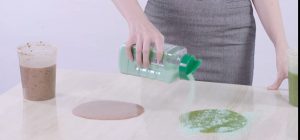 2. SPRINKLE FEW GRANULES
The spillage fluids are transformed to a semi-solid state, making it convenient to quickly gather and dispose the waste product Instantly eliminates unpleasant odors.
Has a refreshing and pleasing aroma Reduces the risk of infection when gathering the fluids One handy shaker rapidly absorbs up to 25 liters of liquid waste
3. SWEEP OFF
Waste can easily be removed by a broom and dustpan The residue becomes nontoxic and can be disposed in minimum time and effort Now available in a handy shaker
1. Eliminates your hygiene hazard
2. Provides a pleasant and fresh aroma.
3. A shaker absorbs up to 25 liters of liquid waste.
4. You save considerable time and manpower.